Trinity:
Created – Redeemed – Sanctified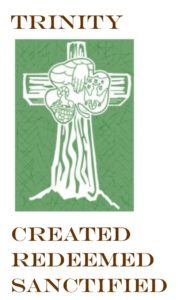 This Vacation Bible School curriculum will present the doctrine of the Holy Trinity as it is confessed in the Apostles' Creed. Children will encounter God—Father, Son, and Holy Spirit—in daily chapel, in Bible memory challenges, and in catechetical instruction. The teaching of the Holy Trinity will be reinforced by snacks, crafts, games, hike, and songs. Along the way, children will learn the story of St. Patrick, who, according to legend, taught the Trinity to a pagan people using a shamrock. At the completion of this Vacation Bible School curriculum, participants will acquire a deepened knowledge and appreciation that they are created by God the Father, redeemed by the blood of Jesus, the Son of God, and sanctified by the ongoing work of the Holy Spirit.

Camp Trinity
Trinity Lutheran Church is again partnering with Bethlehem Lutheran Church for Vacation Bible School. VBS will be hosted by Camp Trinity, south of New Haven from Wednesday, May 30 to Friday, June 1, 2018. Activities begin in the morning at 9 a.m.; pick-up time is 3 p.m. Children will be provided lunch and a snack each day. Make sure to bring comfortable, closed-toe shoes, as we will make use of Camp Trinity's many outdoor facilities. And don't forget to wear your shamrock green for this VBS!
Afternoon activities will include time to swim in Camp Trinity's pool. Flip-flops are allowed poolside. Girls are asked to bring a one-piece swim suit.
Registration
Families are asked to please pre-register children so that we can plan ahead. You may print a registration form and return to Camp Trinity, or fill in the online registration form.